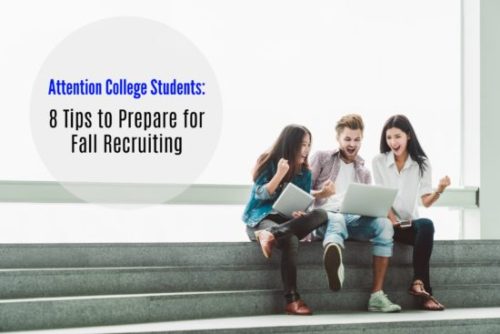 Many college students are spending the summer of 2017 interning at companies, working as lifeguards, or volunteering for favorite charities. And of course hanging out with friends, binging on Netflix, and catching up on sleep. However, for several industries and companies, the recruiting process for 2018 summer jobs and full time positions has already started.
To some students, as well as the university career offices that advise these students, this seems a bit early.  Besides the hesitation to plan a career move so far in advance, there is the inherent risk of committing to something that may not be the best fit.
But let's focus on the good news.  "Employer hiring plans for fall recruiting for the Class of 2018 look very promising," according to NACE's Job Outlook 2017 Spring Update. "More than three-quarters of respondents plan to be on campus recruiting for both full-time and intern/co-op positions."  Given that the fruit of many plum jobs is there for picking, it is helpful to start the exploration, research, and networking process now so you are ready for fall recruiting season.
Here are 8 tips to prepare for fall recruiting during the summer:
Do your research. Learn about specific industry timelines so you can plan your job search before you get back to school.  Which industries recruit early? Banking, consulting, big tech, CPG, to name a few.  Many companies have already scheduled events or opened applications. Explore these companies' websites to learn about the firms and their recruiting processes.
Your school's career center can help you. Check out your career center's website or make a phone appointment with a school career advisor during the summer. It may be easier to get an appointment before the fall rush.
Line up your ducks. Start a list of your target companies and make a game plan for your application process for each company.
Network … Now. Summer is the perfect time to set up info calls and coffee chats with contacts at your target companies.  A coffee chat is a "pre-interview interview" that is evaluative. It means you can distinguish yourself early in the process. Many companies encourage their employees to set up calls and coffee chats to find interesting candidates. Think you don't have a contact a company?  Use LinkedIn or your school's alumni directory to find a recent alum who works at that company. Reach out by email and set up a call or meeting!
Focus on your current internship – and getting a return offer. If you are currently working in a summer internship at a company that makes full time offers at the end of the summer, what steps can you take to seal the deal?  Be strategic to help ensure you get the full time offer by networking internally, going the extra mile, asking for feedback, proactively embracing constructive criticism, and communicating that you want to join the company full time.
Start prepping for interviews. For many industries, such as consulting, banking and tech, interviewing requires specialized preparation. Summer is the perfect time to work on your case interview prep, finance technical's, or coding test practice.
Be true to what you want, but sensitive to timing. There are many industries and/or individual companies that recruit later in the year, including real estate, non-profit, small tech, start-ups, to name just a few.  If your passion is to work at a startup, don't follow the herd of your classmates who are in the middle of recruiting for banking jobs.  However, if you want to consider both companies who recruit early fall and those that come later in the academic year, be aware that you may have to make a decision to accept a job without knowing what opportunities may come along later.
Set up a system to organize your upcoming job search. Use a job search tool to help you identify target companies and manage your job search. We created Jobtreks for this purpose – because job seekers asked us for a platform to streamline their job search (shameless advertising!)  Check it out!