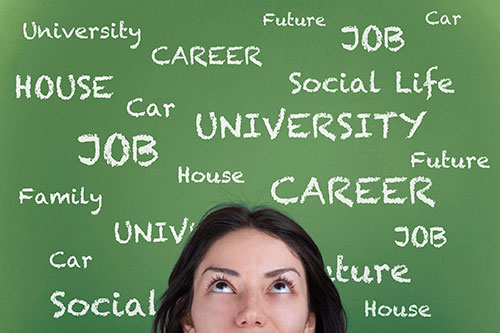 College decision time is here. Congratulations to the millions of high school seniors who will celebrate getting into college this month! So what is the best way to decide where to enroll? Should the college decision be based on academics or how the school prepares students for a future career? Purists on both sides hotly debate this topic. The academics adhere to the "education for education's sake" credo. College is the time to explore without a plan and take classes that are interesting. The consumers contend college is an enormous investment and assumption of debt for students and parents. What is the ROI? What is the exit plan?
Career preparation and higher learning are not mutually exclusive. Some college courses, such as ancient Greek history or contemporary civilizations may not create "aha!" moments for future career paths. That's okay. However, when selecting a college, it is important to also consider factors and opportunities that the school may offer beyond the classroom. Pure academic immersion without planning for the future is a dated luxury.
There are many reasons to fall in love with a school. The ivy-covered buildings nestled in a bucolic small town. The bustling metropolis of a city campus with quick access to cultural events. The spirited college town that pulsates with rah rah for its nationally ranked teams. Location may have other implications. For example, for students interested in government or politics, it's very helpful to consider a school near DC near internships on the Hill. Similarly, for those considering a career in healthcare, the school should be near a medical facility for research and clinical opportunities. Not taking these factors into consideration can adversely affect a future resume or medical or nursing school application.
Studying Classical Greek can expand one's mind, but many universities also offer classes that teach specific skills for a future career, including accounting, website design, coding, etc. Not to mention courses to "better yourself", including public speaking, time management and even the pursuit of happiness. Schools that don't offer these types of classes may not be providing a "well-rounded" education.
Many schools that traditionally prioritized academics over career planning are quietly investing big bucks in career service centers. Just as there are many yardsticks to compare university academics, such as national rankings, number of Rhode Scholars, and good old fashioned word-of-mouth prestige, schools' reputations are now also driven by their career resources and their ability to boost their students' futures. Schools that aren't making career resources a priority raise a red flag.
Schools with state-of-the-art career centers have vast resources, including experienced staff with extended hours and advanced technology. They offer career exploration and job search advice beginning freshman year and are available to all students, not just students enrolled in specific programs. For example, some schools have designated blue chip career resources and job boards offered only to their undergraduate business students. Career centers should be sufficiently staffed with knowledgeable advisors – an appointment four weeks out doesn't help prepare for tomorrow's interview. The advisors should be up to date on the latest hiring trends, such as ridiculously early banking and consulting deadlines, video interviewing, and more. They need to identify diversity hiring initiatives for affinity groups, including women, LGBTQ+, veterans, Black, Hispanic/Latino, Native American, and first-generation college students. And of course, they should be well versed in what industries and at what companies alumni are working, and provide an infrastructure to identify and access these alumni.
Beyond academics and career resources, there is a wide range of how students at each school spend their free time besides playing Fortnite. Opportunities in athletics, arts, affinity clubs, volunteer opportunities, Greek life, social organizations, and professional clubs are extremely relevant. Extracurriculars offer the opportunity to explore, try new things, meet different people, and experiment … along the way developing skills that translate to a future career. Social life in college can mean more than where students hang on weekend nights (or weekdays!). Greek life or secret societies can interfere with academics and job search, but can also enhance networking opportunities. Are students hanging in the dorms streaming The Office or hustling to visit an actual office?
Even a school's academic calendar can be a differentiating factor for a student's future. Some schools are on a trimester schedule, which many students appreciate for the opportunity to take fewer classes at once and "deep dive" into each subject. However, this schedule doesn't always jive with summer internships. Classes may end in late June, prohibiting a student from getting that coveted summer internship that starts in May.
Here is an interesting exercise while choosing a school: Picture your resume. Take off all high school activities. The resume is now a blank page. Envision how the resume would be filled at schools under consideration. Does this school offer options that lead to happiness and help map out a potential career plan?
So back to the decision. An accepted student is now in the driver's seat to choose a college to both explore academic passion and map out a potential career game plan. A good consumer asks questions. Yes, you can have it all as long as you know what "it all" means to you.
Susan Weil, and Terri Wein are co-CEOS of Weil & Wein a national career and executive coaching firm and Jobtreks, a digital tool for job search.
Joie Jager-Hyman is Founder and President of College Prep 360, a college admissions advising firm serving students from around the world.